With expertise in synthetic organic chemistry, we offer custom synthesis service in scales ranging from milligram to kilogram,as well as FTE service. We have successful track records of providing synthetic chemistry service to lead pharmaceutical and biotech companies in China. At the same time, we are also expanding our capability to provide preclinical research such as lead identification, lead optimization, lead prioritization, in vivo and in vitro testing, and other preclinical services.
●FTE &FFS Based Service
A brand new building with over 3000 square ,meter space available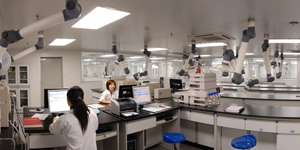 to equip modern research state-of-the-art facility, with expertise in
synthetic organic chemistry and analysis instruments, we could offer
most convenience , high quality FTE(Full-Time Equivalent and FFS
(Fee-for-service)for pharmaceutical and biotech companies, unive-
rsity and research institution Fee for Service Custom Synthesis (FFS)
We offers FFS synthesis (2-20 steps) service including lead optimization, process chemistry development, and synthesis of key and advanced intermediates, reference compounds, small focused libraries, metabolites and impurities, etc. FFS projects generally involve various amounts of material (10 mg to 1 Kg). After we get your inquiry, we will give you price quote in 48 hours. Additional benefits for FFS synthesis including:
●No Cost Risk: The clients don't take any risk for FFS project; and only pay the money when the project has been finished.
●Strict Timeline: Before the FFS project starting, we will negotiate a reasonable timeline with the clients. So we will try our best to deliver the compounds before the timeline to meetthe clients' request.
Full time equivalents (FTEs) We offers Full time equivalents (FTEs) collaboration to our clients, FTE contracts provide our clients consistent and reliable laboratory capacity, and FTE collaboration can help our clients accelerate their drug discovery in a highly cost-effective manner, because the medicinal chemists can focus more on the molecular design and SAR analysis. Additional benefits for contracting full time equivalents (FTE) versus contracting multiple one-off type projects including:
●Reliable Service: FTE contracts provide our clients consistent and reliable laboratory service. In a one-off situation, timely project start-up maybe hampered by inadequate available personnel.
●Flexibility and Responsiveness: The data-driven dynamics of the drug discovery environment often necessitates changes in goals. The FTE approach allows for projects to change without the need to adjust a work order.
●Project Execution promptly: There is no time lapse for proposal writing and contract approval process, so projects may be initiated immediately when the chemistry is provided.
●IP Protection: We understand that our customer's intellectual property is of utmost importance. We take comprehensive measure to safeguard and ensure the confidentially of all projects.
●Process Development Research
We produces chemical products from milligram to multi-kilogram scales. The development team utilizes a matrix combinatorial approach to optimize reaction conditions and processes for each step. All of our optimized processes have successfully transferred to our partners for final manufacture.We provide safe, cost-effective process R&D as follows:
●Synthetic route scouting
●Experimental design
●Process development and optimization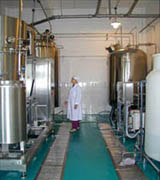 ●Impurity synthesis and characterization
●Technology transfer
●Milligrams to metric tons scale up
●Custom synthesis Service
We can provide cost-effective and timely services, including the following:
•Intermediates and templates up to the multi-kilogram scale
•Diverse or focused libraries (10-50 mg per compound)
•Reference compounds and metabolites
•Chiral synthesis and resolution
•Synthesis, identification, analysis of target compounds and impurities
We have been working closely with our analytic department to ensure the highest quality for our valuable clients.

●Lead Optimization Services
Our Medicinal Chemistry Department has extensive expertise and successful track records in early stage drug discovery including hit identification, hit to lead optimization, computer-aided drug design, and lead selection, as well as optimization, for the discovery of small-molecule drugs. This enables our clients to develop effective, patentable, and safe drugs.
Teams at We utilize both combinatorial and traditional approaches to optimize lead compounds for structure-activity relationships (SAR) studies by leveraging our vast medicinal chemistry knowledge. Further, our teams can design and synthesize advanced leads to optimize potency, selectivity and specificity, and deliverability to provide your preclinical candidate.
●APIs Manufacturing
As a chemistry service focused company, we have all the necessary resources to conduct process R&D. Our process chemists work in well-equipped laboratories to conduct rapid process research and development including synthetic router evaluation, reaction condition optimization, and scale-up production.
We can provide high-value, high-quality chemical manufacturing services to meet your clinical and commercial needs. We can perform multi-ton production of cGMP and non-cGMP materials, using either client-provided or radiant-developed processes. We have a strong track record of timely project completion. Our services include small amount synthesis and process development of APIs for the preliminary study of preparation and clinical. With the process of new drug research and development entering into phaseⅠ, we will further extend our service to kilo laboratory synthesis accordingly. At this stage, we can help customers identify and optimize the process synthesis routes, and provide non-GMP and GMP contract manufacturing services for APIs and its intermediates
For the listed drugs, we can develop better new process or does not infringe existing patents for our customer, and provide non-GMP and GMP contract manufacturing services.
●Library Design and Synthesis
With our primary expertise is integration of automation into hit to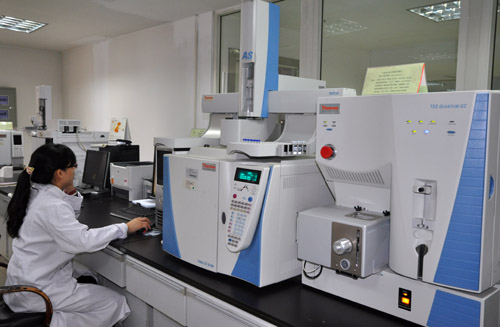 lead and lead optimization processes, we also provide services to
design and synthesize screening libraries that are lead-like or drug
-like and are either diversity-focused or target-focused.Library
synthesis can be accomplished to meet our clients' needs utilizing
solution- and/or solid-phase combinatorial technologies.
The Library Design and Synthesis service is dedicated to the design, synthesis, and analysis of a wide range of small organic molecule libraries for pharmaceutical and biotechnology companies. The library can be designed based on customers' own ideas or our knowledge, and/or experiences, and/or molecular modeling. All the library compounds will be in milligram (mg) quantity with purity greater than 80% (by LC/MS) or higher as required. All the compounds can be purified according to customer's requirements.
●Drug leads design
We optimize and design lead series for the target on the basis of literature search system, high-level synthesis talents and verified hits, provided by a close collaboration between our partners and our chemistry teams, in two steps:
1. Creating new targeted libraries on the basis of hits verified in the initial biological testing stage.
2. Carrying out in silico screening of these compounds against the target.